Flap Wheel 1
Flap wheel for sanding is an abrasive disk and it is made of overlapping flaps. Flap wheels are useful tools for metal finishing, and they helps to grind and finish hard-to-access areas such as the inside of tubes. They come in a variety of sizes, grits, diameters and widths depending on the application. Being one of the flap wheel distributors in China, JSH provides the stainless steel polishing flap wheel with the best flap wheel price.
Product features
Flap wheel metal polishing is made of unique synthetic non-woven fiber and abrasive emery. Because of its different structure and hardness can be used for various purposes, from the most superficial cleaning effect to sand texture decoration.
Applications
It can be used as flap wheel for paint remove. Surface grinding and polishing of stainless steel knives, tableware, stainless steel vacuum flask; the surface sand processing of construction hardware, handles, hinges, door locks; golf heads polishing, clubs deburring, surface sand texture decoration, and the surface treatment of aluminum heat sink.
Parameter
Type
FW001
Flap Wheels
O.D(mm)
Width(mm)
Hole(mm)
Grain
125~350
20~150
16~50.8
40—800
Details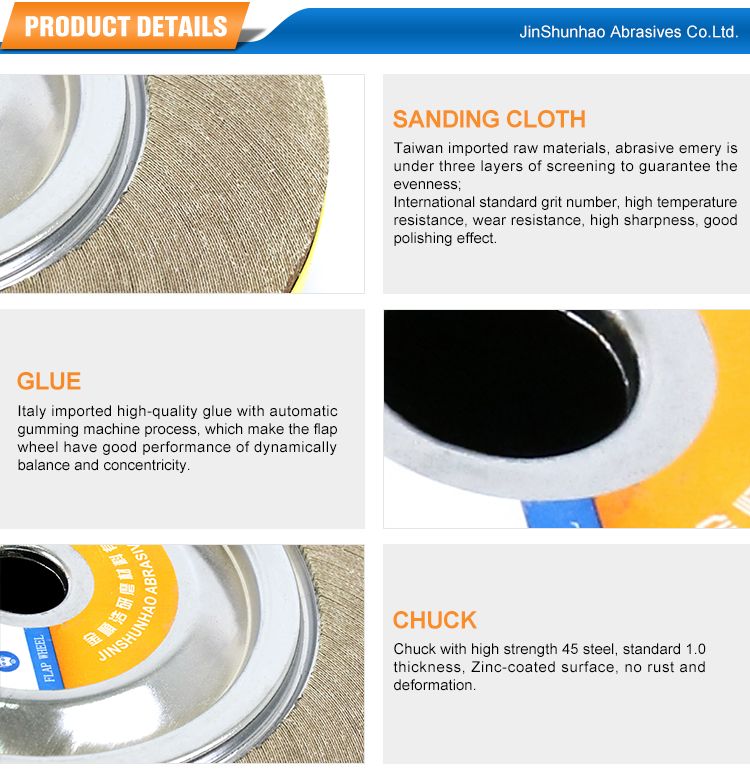 Type
FW001
Flap Wheels
(mm)
O.D
(mm)
Width
(mm)
Hole
Grain
125~350
20~150
16~50.8
40~800