Most people may use a flap disc or flap wheel when they are going to grind something. But when should you choose a flap wheel? flap wheel is an abrasive disk and it is made of overlapping flaps. The design of the flap wheel offers a nice combination of grinding and finishing power and provides a useful tool for many abrasive applications. In this post, we will walk through the functions of the flap wheels.
● Better finish and Sand texture decoration
Flap wheels are made of unique synthetic non-woven fiber and abrasive emery. They have different sizes, grits, diameters, and widths and they can be used in various applications, from the most superficial cleaning effect to sand texture decoration
.

● A coarser or smoother finish provided bystainless steel polishing flap wheel
This product can absolutely match the workpieces, and it provides a smooth abrasion on the workpieces' surface during its lifetime. It has the characteristics of good elasticity, stable physicochemical property, high security, and safe not to burn the workpieces.
● Less vibration and fatigue for more comfortable operation

● Grinding and finishing hard-to-access areas
Standard flap wheels, made of aluminum oxide abrasive cloth, provide consistent grinding and finishing action for applications including final metal finishing, deburring, edge blending, cleaning and finishing for painting and plating.es.
● Improved safety because there are no pieces to shatter or fly off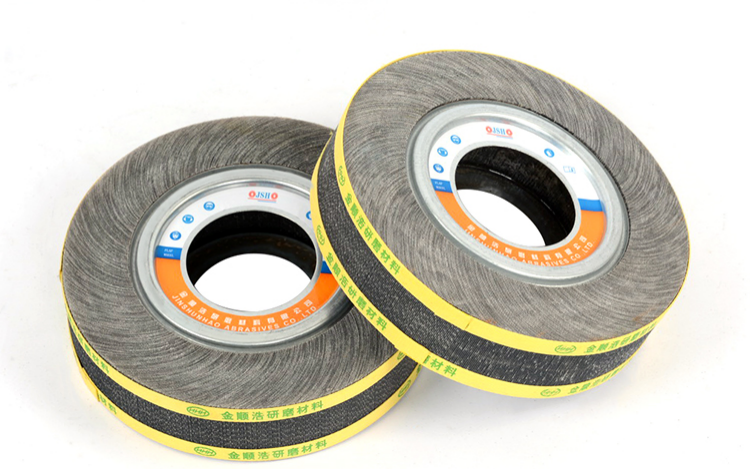 Parameter of the high quality flap wheels
(mm)

(mm)

(mm)

Grain

O.D

Width

Hole

125~350

20~150

16~50.8

40~800
Applications of china flap wheel
This product can be applied to most irregular surfaces and both the inner and outer walls of pipes. It can also be applied to all varieties of polishing like the large surfaces of stainless steel, metals, wood, furniture, stones, etc. Various industries often use this product including automobiles, heavy machines, ship repairs, stainless steel, aluminum alloys, and the like.
Conclusion
As the saying goes, a good horse deserves a good saddle. JSH provides precision cutting with flap wheels that conform to curved, contoured, and irregular surfaces. They come in a variety of widths, holes, and grains so you can get the right abrasive for your job. If you would like to know more about flap wheel for stainless steel, or our consultancy, design, and product development services, please call us on +86 15151606819.